Technologist. Writer and editor. Shakespearean actor.
March 19 2013
March 18 2013
What's significant about this is that they're including guidelines on contributing to FOSS. http://t.co/8FfcNYyDrz

March 18, 2013

UK Government Service Design Manual encourages use of FOSS | fsdaily.com - Free Software News
About Welcome to Free Software Daily (FSD). FSD is a hub for news and articles by and for the free and open source community. FSD is a community driven site where members of the community submit and vote for the stories that they think are important and interesting to them.
http://www.fsdaily.com/Government/UK_Government_Service_Design_Manual_encourages_use_of_FOSS
March 17 2013
Do take note of the comment http://t.co/hKybFg4Eug

March 17, 2013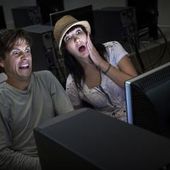 Symbolics.com, internet's first domain, celebrates 28th year
Few may know it, but the very first domain on the World Wide Web just marked its 28th birthday last March 15. "Today, let's give congratulations to the former employees of the Symbolics Computer Company - although the company has ceased operations, their efforts and pioneering spirit will live on for a very long time, as we remember them every 15th of March," said e-businessman Aron Meystedt, the present owner of the domain.
http://www.gmanetwork.com/news/story/299602/scitech/technology/symbolics-com-internet-s-first-domain-celebrates-28th-year
March 14 2013
Patient engagement will be tough task for health tech http://t.co/ht8vzL5oy1

March 14, 2013
Patient engagement will be tough task for health tech
Service Desk Comparative Report Gartner's recent magic quadrant for IT Service Support Management included no vendors as leaders or innovators. Learn why and how ITinvolve is delivering an innovative service desk solution that empowers IT staff through social collaboration and visualization to improve incident analysis and triage to speed incident resolution time.
http://www.infoworld.com/d/consumerization-of-it/patient-engagement-will-be-tough-task-health-tech-214148
September 17 2012
After reading several positive reviews of I Do Bidoo Bidoo, I decided that I just had to watch it. Instead of rehasing the reviews, I'll list down instead some of my favorite scenes. By and large, I agree with most of the reviews -- Pinoy Rebyu has thoughtfully compiled a list of reviews. But before my favorite scenes list, lemme just note a few things about the reviews.
Most, if not all, of them find the ending abrupt, and I agree. There seems to be no motivation (in the acting sense) for General (ret.) Fuentebella's apparent change of heart, nor for his son-in-law Nic's sudden warmth for his (Nic's) wife, the General's daughter. Nor (SPOILER ALERT) for Tracy's agreeing to elope. Was this left for the audience to fill in the blanks? IMHO, the script should've been more explicit about this.

I disagree with reviewers who didn't like the cinematography, see below.

Didn't anyone else notice that Ogie Alcasid (as Pol Polotan) doesn't really know how to play the guitar? It was pretty obvious to me. Since he was playing a guitar instructor, he should've learned at least some basic chords. Or else, the camera could've cheated. For instance, when he's supposed to be strumming, either zoom out, or shoot him from the back, to hide his fingers. If Martinez really wanted to show guitar chords, he could've hired a "stunt" guitarist.

Some of the lip-syncing was really bad, in particular Zsa Zsa Padilla's. Fortunately, she makes up for this with her acting performance.
Now on to my list of my favorite scenes:
Rock and Tracy in the church, making their wedding plans -- loved the lighting

Batang-bata Ka Pa sextet involving the lovers and their parents. The "carousel" effect was, I thought, creative. (Or was that just a quartet involving the lovers, Nic, and Rosie??)

Bret and Rock going home after the videoke episode. Again, loved the lighting.

The elopement -- reviewers thought that the lighting was too weak and obscured the lovers' faces. I thought that their silhouettes were more important, and that facial expressions would've ruined the scene. But that's just me :)

The Apo's cameo -- for simply being Apo :)

Closing scene, the dance number with Fabregas and his soldiers.
I Do isn't likely to last another week, and will probably be gone by Wednesday. Do make the time for it, it'll be entertaining enough to make it worth your while.
August 27 2012
The true owner of our house and everything in it. At the moment, I don't yet have her permission to use the printer or the computer.